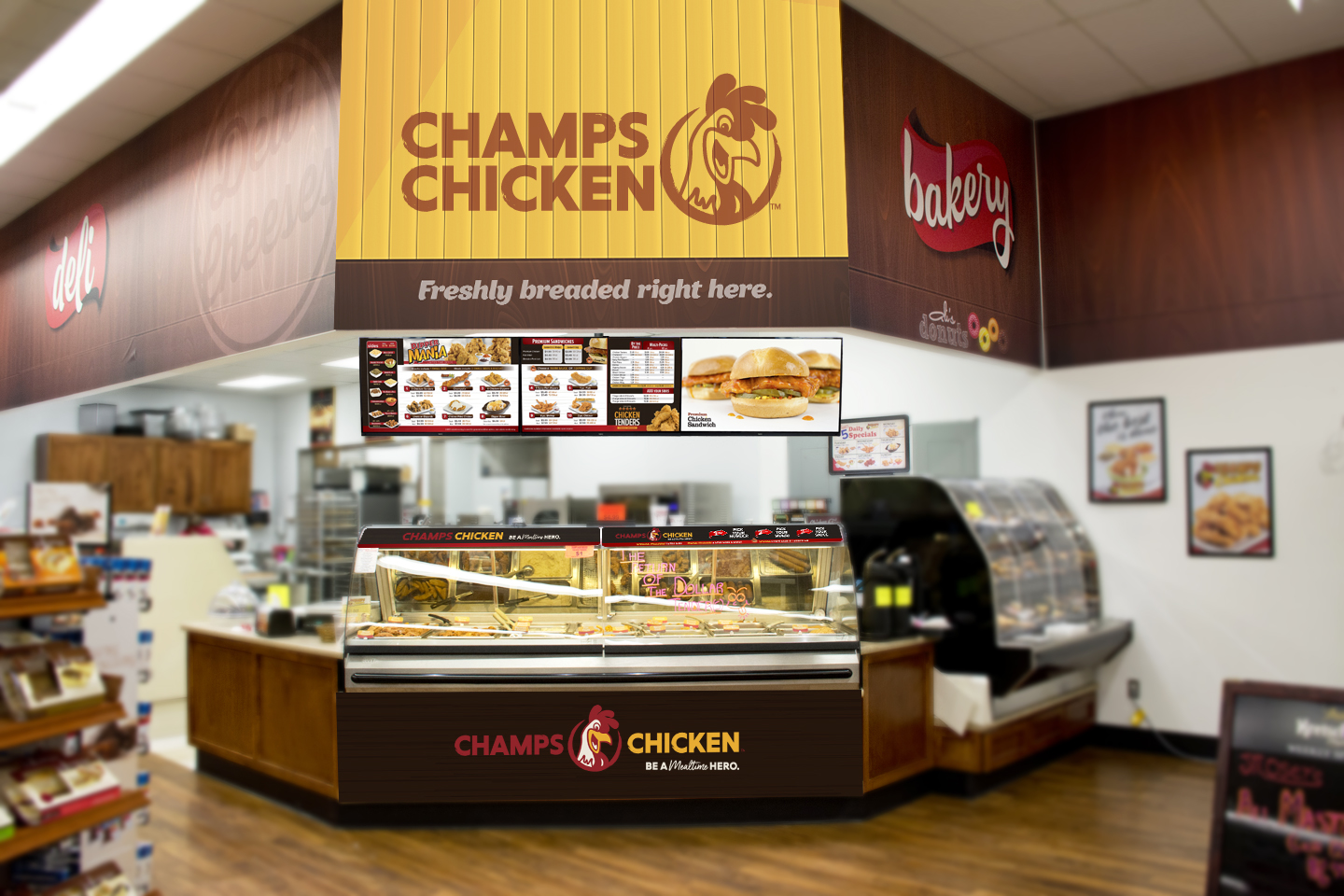 Is it safe to eat Champs Chicken during coronavirus?
What are Champs Chicken's hours during coronavirus?
Champs Chicken makes it easy to grab a delicious comfort meal or snack on the go. Hours vary by location, find one near you!
Does Champs Chicken offer contactless take-out, curbside pick up, drive thru or third party delivery?
Yes! Find a Champs Chicken near you if you crave fried chicken for lunch, dinner, or even to start off your day. We know you don't want to waste your time waiting for it so our succulent chicken is served hot from the fryer. Contact your nearest Champs Chicken to confirm these options.
How is Champs Chicken protecting customers during coronavirus?
The Champs Chicken core purpose is to help people conquer their busy days with truly delicious, high-quality food, yet in more convenient ways. We adhere to all food handling beset practices and provide our retailer employees with the personal protective gear they need. Find a Champs Chicken near you to learn about safety measures in place.
Can I order ahead online?
We do not offer order ahead, but we always have a plate of fresh, hot and perfectly seasoned chicken ready and waiting for you. Make Champs Chicken your go-to location for crave-worthy, mind-melting goodness with each tender bite. Find a Champs Chicken near you today!
What is Champs Chicken doing for frontline workers?
As part of Champs Chicken's commitment to #BeAMealtimeHero during National Nurses Week the Champs Chicken and BluTaco truck delivered hot and delicious meals to local healthcare workers at SSM Health St. Mary's Hospital – Jefferson City and Capital Region Medical Center. More than 300 meals were served to local heroes in Jefferson City, Missouri. Read more about it here.
What is Champs Chicken doing for children impacted by school closures?
According to the USDA, 74% of all school lunches served were part of the federally assisted meal program that provides free or reduced lunches.
With schools closed and distance learning in place, kids who rely on this program for sustenance aren't guaranteed a hot meal every day.
To assist local community families with school-aged children, participating Champs Chicken locations are providing one free hot meal – four-pieces of our crave-worthy chicken dippers, two of our classic potato wedges and one of our sauces – for school aged children (4 – 18) once per day, Monday through Friday. Find a Champs Chicken near you.
What kinds of fried chicken does Champs Chicken serve?
Famous throughout the entire country, Champs Chicken Tenders are hands down the best chicken on the planet. Our customers say our chicken is "always moist, nicely spiced, flavorful… great tasking chicken!"
The little brother to our tenders, the Champs Chicken Dippers are great for on-the-go snacking. Dunk them in any of our awesome sauces.
Nothing better than fried chicken on a stick! Especially when it's coated in one of our amazing sauces. Our ChampStix are a treat for the whole family.
Find a Champs Chicken near you to get your fix today.
Does Champs Chicken offer family meals?
Modern life isn't easy, what with so much stress and so many demands on your time. We get it, you are busy doing heroic things for your family, so let us do the cooking, we've got you covered! #BeAMealtimeHero and grab a warm, wholesome, value meal, signature sides and classic fried chicken for your family. With hundreds of locations across the country, you won't have to look to far to find a Champs Chicken near you.
Does Champs Chicken accept SNAP, EBT or LINK?
Participants of Supplemental Nutrition Assistance Programs (SNAP) (or similar programs in each state), may purchase delicious, fully-cooked foods to bring home and easily warm and serve for their families at participating locations. Find a location near you to learn more about the assistance programs accepted at your local Champs Chicken.
Who can #BeAMealtimeHero?
You, when you choose Champs Chicken! A Mealtime Hero brings home a little extra love in every box of Champs Chicken – and spreads a little extra love in the community because PFSbrands, Champs Chicken's parent company, has teamed up with the Super Sam Foundation, a nonprofit organization founded in our home state of Missouri, to fight childhood cancer.
Text "Hero" to 28748 to donate and be a hero for children fighting cancer. Learn more about our partnership here.
What does Champs Chicken believe in?

Champs Chicken believes in delivering amazing service – always going the extra mile, the ultimate food experience – only serving fresh, high-quality foods, and having a blast while doing it.
Is Champs Chicken a small business?

Champs Chicken is a highly successful food program found in the backbone of communities across the nation – at supermarkets, convenience stores and travel plazas. PFSbrands, the parent company of Champs Chicken, is 100% employee owned.
I want to work for Champs Chicken!

PFSbrands, Champs Chicken's parent company is always looking for CHAMPS – people who put the Customer first, who work with Honesty and integrity, who Act like an owner, who Make and serve only the best, and who have a Positive attitude always. If you are excited to expand your skills, eager to embrace our values and willing to work hard to achieve our vision, then we want to hear from you! To learn about current openings at PFSbrands click here. To learn about current opens at your local Champs Chicken please contact the location nearest you.
I want to start a Champs Chicken program!

Are you a CHAMP? Want to bring the savory southern goodness of Champs Chicken to your location? Be sure to head over to our franchise page for more information!